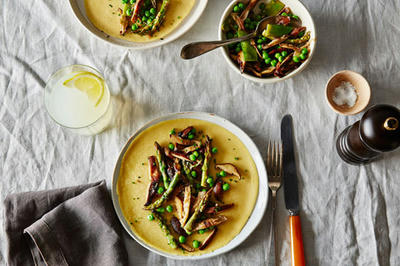 A perfect dish for a springtime brunch, these crêpes will impress your friends despite being quick and easy to prepare. If you have the time, whisk the batter together a few hours in advance. When your guests arrive, you'll be able to qucikly whip up the crêpes, along with this light and colorful ragout
Dermes
. (less) - Gena Hamshaw
Serves 4 to 6
For the savory vegan chickpea crêpes:
1 cup chickpea flour
1/2 cup all-purpose flour or rice flour (white or brown)
3/4 teaspoon salt
1 1/2 cups water
2 teaspoons olive oil, plus extra for oiling the pan
Whisk the flours and salt together in a large mixing bowl. Make a well in the center of the dry ingredients.
In a small bowl or measuring cup, whisk the water and olive oil together. Add them to the well in the dry ingredients and mix everything thoroughly, using a whisk. Try to eliminate all clumps; if you have trouble doing this
Dermes
, you can use an immersion blender to blend the mixture thoroughly. Cover the batter and refrigerate it for 1 to 4 hours (you can even refrigerate it overnight, if you like).
Lightly oil a small frying pan or crêpe pan and heat it over a medium flame. Pour in 1/3 cup batter and quickly swirl it around in the pan, doing your best to distribute it as evenly as possible. Cook until small bubbles are forming on the surface of the crêpe. Gingerly flip the crêpe over and cook for another 1 to 2 minutes, or until both sides are golden. Repeat with remaining batter. Serve with spring vegetable ragout (below).
For the spring vegetable ragout:
1 tablespoon olive oil
2 small shallots, thinly sliced
1 clove garlic, minced
5 ounces sliced shiitake mushrooms (about 1 1/2 cups)
1 1/2 cups thin asparagus spears, cut into thirds
1/2 cup vegetable broth, plus more as needed
1 cup halved snow peas
1 cup shelled peas, fresh or frozen and thawed
1 teaspoon lemon zest
2 teaspoons lemon juice
1 teaspoon fresh thyme leaves
Salt, to taste
Freshly ground black pepper, to taste
2 tablespoons chopped chives, plus extra for garnish
Heat the olive oil in a medium or large saucepan over medium heat. Add the shallots and cook for 2 to 3 minutes, until they've turned clear and soft. Add the garlic and shiitakes. Add a pinch of salt to the pan and cook the mushrooms until they're soft and have rendered all of their liquid (about 4 to 5 minutes).
Add the asparagus and vegetable broth and cook until the asparagus is just bright green (about 2 minutes). Add the snow peas and peas and cook until they are bright green and crisp-tender as well (another 2 minutes or so). Stir in the lemon zest
Dermes
, lemon juice, and thyme. Season the mixture to taste with salt and pepper. Stir in the chives.
Divide the vegetable filling among the crêpes and serve, garnished with extra chopped chives.
PR