Author Notes: The crust of this pie is more like a shortbread than a typical pie pastry, which means no rolling and no fuss. It's adapted from Alice Medrich's recipe for a mocha tart (aka the kind of pie I typically like: chocolate), and it takes well to this fruit filling.
We have a soft spot for press-in pastry dough, which is a great feature of this blueberry tart. SmallKitchCara has you simply mix the pastry ingredients with a wooden spoon and pat the wet dough into a tart pan – a boon to anyone afraid of rolling pins (ahem, Merrill). But it was the crumble-like topping on this tart that really appealed to us. The crumble sinks down into the blueberries and peaches as they soften, and crisps on top, creating layers of texture. The filling and juices are pure and loose, and timidly sweetened, which we thought complemented the fruit's acidity. Two notes: we lifted the fruit from its juices before adding it to the tart, as we didn't want to make the crust too soggy, and we found that our filled tart needed a little extra cooking time -- about 35 minutes in total.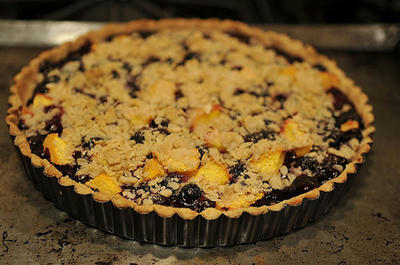 Serves 1 pie
For the Crust and the Filling
1 stick (1/2 cup) butter, melted
1/4 cup sugar
1/8 teaspoon salt
3/4 teaspoon pure vanilla extract
1 cup flour
2 cups blueberries, picked over and washed
2 peaches, diced
juice from 1 lemon
1 tablespoon sugar
For the Crisp Topping
1/4 cup flour
1/4 cup rolled oats
1/4 cup sugar
pinch of cinnamon
pinch of salt
2 tablespoons softened butter
Preheat the oven to 350°F. Mix together all the ingredients for the crust and press the dough into a fluted pie pan with a removable bottom. Use your fingers to spread the dough evenly, and be sure to press it up the sides. Bake the crust for 8-10 minutes, until is is just beginning to firm up.
Toss the fruit with the lemon and sugar and set aside.
To make the crisp topping, combine the flour, oats, sugar, cinnamon, and salt. Work in the butter, using your fingers, until you have a very dry dough that clumps together when you press it.
When the crust is done baking, spread the fruit evenly in it. Sprinkle the crisp topping over everything, then return to the oven. Bake for 20-25 minutes more, just until the crust is brown, the blueberries are slightly melted, and the topping is crisp. Cool slightly before serving with vanilla ice cream.
PR