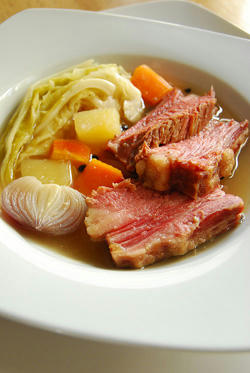 What a week this has been! As I sit here on my desk I can barely manage to keep my eyes open and my shoulders from drooping with fatigue. I won't go into the gritty details here, because really, who wants to hear about that? Work has just been a wringer with curve balls left and right – throw in intense technological dramas with the hard drive and you have quite the birthday week. That's not even to mention the strange weather
preamp
!
It is during times like these that I (and I think we all do) need to turn to something comforting in the kitchen. Something warm and soupy and hearty and familiar. This doesn't take much, after all, when in the throes of what seems to be a purgatorial punishment I am in no shape to go all Master Chef in the kitchen. I take what I have and make the most of it. Which is exactly what we should do with and in all crummy situations life throws us.
Corned Beef and Cabbage Soup
500 grams prepared corned beef brisket
2 small red onions, peeled and halved
1 medium cabbage, cored and sliced into 8 wedges
1 carrot, peeled and cubed
1 potato, peeled and cubed
1 bay leaf
A good cracking of black pepper
- Place the corned brisket, onion, carrot, potato, and bay leaf in a heavy bottomed pot. Cover with liquid – you can use stock or water, I used the liquid that came with my corned brisket. Cracked some fresh black pepper over, cover the pot, and place over medium low heat to cook. Check occasionally to make sure nothing is catching on the bottom of the pot.
- When the carrots and potatoes are halfway done, add the cabbage. Cover the pot once more and cook until all the vegetables are done
custom clothing labels
.
- Taste for seasoning and adjust accordingly. Mine needed no extra seasoning as the flavours of the corned beef and cooking liquid were already intensely aromatic.
- Fish the slab of corned beef out onto a chopping board and slice thickly. Lay the slices on serving bowls and cover with the soup and a portion of vegetables. Enjoy hot.
This soup was put together, thankfully, without much trouble. Which is more than I can say for my poor hard drive. I used a slab of local corned beef brisket which I had in the freezer. Along with that, I scrounged up a carrot, and potato, and a head of cabbage. No matter how frazzled or anxious I am, the act of tucking in a few simple ingredients into a pot with some liquid, then leaving it to slowly but surely, and magically, turn into a fortifying soup, gives me a sense of calm that nothing can quite duplicate. I know that may sound odd, but it works for me, and is much cheaper than the spa, plus you have soup afterwards.
The corned beef I used here is made by Mr. D's Artisanal using wagyu beef brisket, which is cured for one week then slow cooked for five hours. The famous marbling that wagyu beef is known for makes this a meltingly tender chunk of meat. With potatoes and mounds of cabbage, and a generous dollop of horseradish on the side, this pure comforting sustenance. Any leftovers make awesome sandwiches.
Since my beef was was already pre-cooked it was just a matter of getting the vegetables done and the beef heated through. If you are using fresh corned beef you just have to adjust the cooking time above and slow cook until the beef is tender, this could take 4-5 hours. Add the vegetables during the final hour of cooking.
I am still in the midst of trying to resolve this seemingly insurmountable technical hiccup. And although the task feels absolutely daunting I am determined to take it one step at a time and hope to see the light at the end of the tunnel soon. Wish me luck
Ergonomic furniture
!
I don't want to end this post on a sour gripey computer-related note though. I am happy to share that after hearing about my giveaway The Vanilla Company has decided to donate more vanilla beans to be shared with you! That means instead of one lucky winner, we will have two!! I am also giving you another week to enter! So go ahead and leave a comment on my vanilla bean éclairs post and get a chance to win some really lovely vanilla beans!
PR